Friends, in the last month we have rescued two female rabbits, Julia & Amelia both who had 8 kits each. We also rescued several young bunnies under 8 weeks old. With rescue comes great expenses for spay/neuter. We are in urgent need of donations to raise approximately $2400 to cover spay/neuter expenses. Can you help?
Read more
Santa Photos 
Bring your pets for a picture with Santa! Cost of each photo is $9.95. Proceeds benefit Friends of Unwanted Rabbits.
Dec. 8th, 15th & 16th
From 1:00pm to 4:00pm
Petco 855 East Bidwell Folsom, CA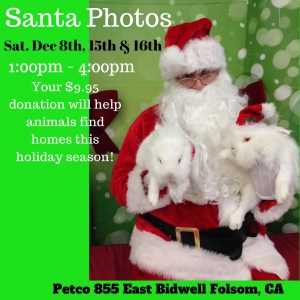 ...
Read more