When Adopting A Rabbit 
Please take time to consider
The Scared ones,
The Shy ones,
The ones that don't stick out to you,
The ones with the boring colors or the red eyes,
Read more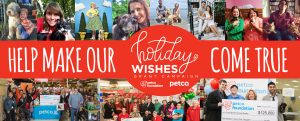 We have a chance at $100,000 in lifesaving funds, but we need your help! The Petco Foundation, in partnership with Petco, will be granting more than $750,000 to animal welfare organizations like ours during their annual Holiday Wishes campaign.
Share your story of love!
The...
Read more