Please consider making a tax-deductible year end gift to Friends of Unwanted Rabbits.
Without your generous donations we wouldn't be able to help rabbits like Runny Babbit, Carson, Frosty, Moby, Kanga, Jean Grey, Pluto, Kiki and so many more. Your gift helps with urgent life saving medical needs, spay/neuter expenses, and daily care.
Please help us continue...
Read more
Santa Photos 
Bring your pets for a picture with Santa! Cost of each photo is $9.95. Proceeds benefit Friends of Unwanted Rabbits.
Dec. 8th, 15th & 16th
From 1:00pm to 4:00pm
Petco 855 East Bidwell Folsom, CA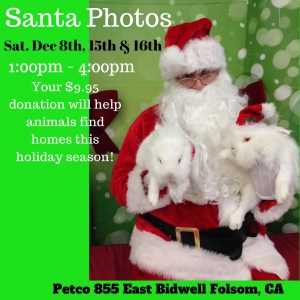 ...
Read more